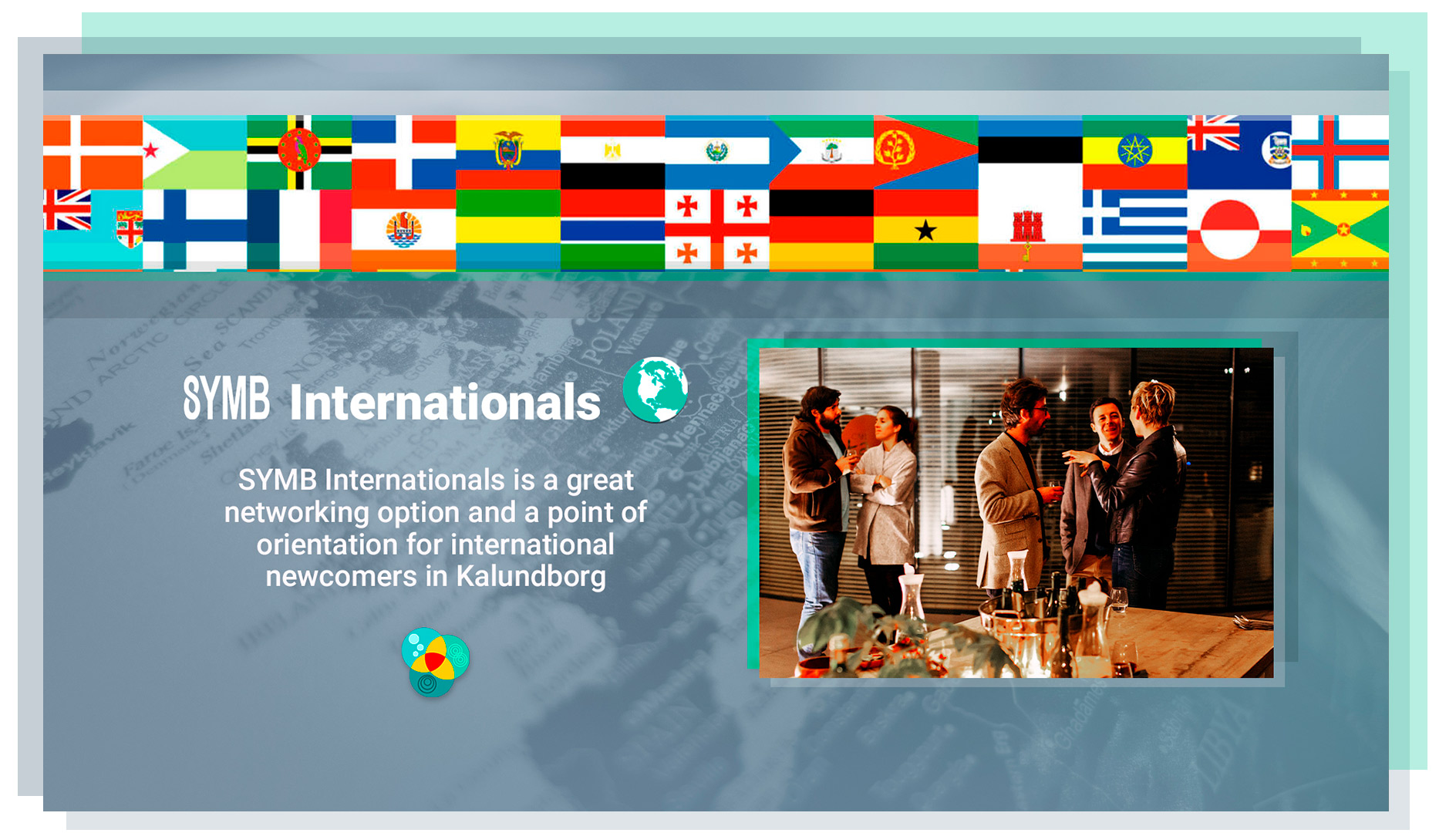 SYMB Internationals
English below
SYMB Internationals er SYMB's internationale platform – både for internationale borgere og for lokale uden international tilknytning, som ønsker at lære dem at kende. Igennem SYMB Internationals tiltag kan de internationale borgere lære hinanden og lokale danskere at kende samt opbygge et netværk og relationer i lokalsamfundet. SYMB Internationals' mission er at gøre det i det hele taget lettere at flytte hertil fra udlandet og få sparring og hjælp til forskellige ting lige fra at finde den lokale fodboldklub, til viden om hvordan man starter en virksomhed eller hvordan man får en læge, men også viden om danskerne, om dansk kultur og traditioner. Aktuelle konkrete tiltag under SYMB Internationals er 'SYMB International Café' og 'SYMB Musketeers'! Endvidere er der planer om etablering af 'SYMB Eat with the locals', hvor internationale borgere inviteres hjem til lokale til en hyggelig middag.
Bemærk: SYMB Internationals er også for lokale uden international tilknytning – netop fordi vi ønsker at samle mennesker på tværs i SYMB og skabe brede netværk. I facebookgruppen SYMB Internationals informeres jævnligt om relevante aktiviteter og forhold.
SYMB Internationals is SYMB's international platform, where international citizens can make aquaintance of each other and local Danes as well as establish networks and relations in the local society. SYMB International's mission is to facilitate the first steps in Kalundborg for international new arrivals and to support them in different matters like finding the local soccer club or learning how to start own business. Other important issues might be knowledge about danish people, their culture, and traditions. Right now, SYMB Internationals has two initiatives: 'SYMB International Café' and 'SYMB Musketeers'. Read about them below! Join our Facebook group where you will find information about actual events and other interesting stuff for the international milieu in Kalundborg.

Want in? Join us now!
To join this event or for more information, please contact:
Jurgen Andresen,
Phone: +45 51 82 54 63, e-mail: purpose4400@gmail.com

SYMB  |  Banegårdspladsen 2  |  4400 Kalundborg
42 21 41 08 |  info@symb.dk